Better Blood Flow at the Heart of Nordic Clinical's N-O BloodBoost with Setria® Glutathione L-Glutathione
Supplement Helps Increase Nitric Oxide Production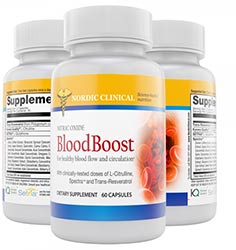 Nitric oxide (N-O) is a pretty big deal. In 1992, N-O was named "Molecule of the Year," and in 1998, it was awarded the Nobel Prize in medicine for the discovery of N-O as a signaling molecule.
That's why Nordic Clinical created its N-O BloodBoost supplement around this "miracle molecule." And the company included the powerful combination of Setria® Glutathione and Kyowa Quality® L-Citrulline to help increase nitric oxide levels for even better blood-flow support.*
Glutathione, called nature's "master antioxidant," and L-Citrulline help speed up the release of nitric oxide from arginine, which releases more nitrite – a precursor to N-O. N-O BloodBoost combines Setria® and KQ L-Citrulline with trans-resveratrol and another powerful antioxidant to rapidly enhance blood flow, delivering oxygen and critical nutrients to every tissue and organ in the body.*
"This formulation represents a significant breakthrough in nitric oxide restoration, offering a simple, easy to take solution that will benefit many patients over 40 who unfortunately don't produce enough N-O for optimal health," said Dr. Derrick DeSilva Jr., a renowned expert on complementary nutrition and anti-aging treatments. "No molecule does more for circulation than nitric oxide. In fact, nitric oxide is the primary mechanism that expands artery walls so they open up like floodgates. This keeps your blood moving unfettered."*
N-O BloodBoost has numerous other benefits, including endothelial and cardiovascular, blood lipid markers, antioxidant and healthy aging. And, for even more support, a double dose of N-O BloodBoost normalizes sexual performance in 50% of male subjects.*
For more on N-O BloodBoost, visit nordicclinical.com/no-blood-boost.
About Nordic Clinical
Nordic Clinical is a leading direct-to-consumer nutritional supplement company. By using advances in science and technology, Nordic harnesses the incredible health-giving properties of plants, fruits, herbs and their active ingredients. Its R&D team works with some of the world's most distinguished scientists, medical doctors and global suppliers to provide groundbreaking formulations and cutting-edge technologies, giving its customers products with real solutions and demonstrable results. For more information, visit nordicclinical.com.
About Dr. DeSilva
Derrick DeSilva Jr., M.D., is a highly respected and sought after physician with over 30 years of clinical practice. He is a practicing internist at the Raritan Bay Medical Center in Perth Amboy, NJ, where his integrative approach combines the best of eastern and western medicine. This best-of-both worlds approach produces a more efficacious outcome for the patient. Today, he is a well-known advocate for complementary nutritional and anti-aging treatments, and collaborates with Nordic Clinical's research and development team. Dr. DeSilva joined the Nordic Clinical team of experts in 2014.
About Setria Glutathione
Setria® Glutathione, manufactured by Kyowa Hakko Bio Co., Ltd., is a clinically studied and patented form of glutathione that, when taken orally1, has been shown to replenish the body's reserves, which may be depleted as a result of poor lifestyle choices, stress or natural aging. Called the "master antioxidant," glutathione helps protect cells in the body from the damaging effects of oxidative stress and toxins. Setria Glutathione is manufactured through a patented fermentation process to yield high purity and high quality, is vegetarian and allergen-free. For more information about Setria Glutathione, visit SetriaGlutathione.com.
About Kyowa Quality L-Citrulline
L-Citrulline is an amino acid that plays an important role in nitric oxide metabolism and regulation.* L-Citrulline is converted to L-Arginine in the body to support L-Arginine and nitric oxide levels.* Increased production of nitric oxide (NO) promotes vascular dilation which improves oxygen and blood circulation throughout the body.* L-Citrulline is also expected to relieve muscle fatigue through ammonia elimination.* Antioxidant action and heart protection action are also known.* For more information, visit, kyowa-usa.com/ingredients/l-citrulline.
References
1 Richie JP Jr, Nichenametla S, Neidig W, Calcagnotto A, Haley JS, Schell TD, Muscat JE. Randomized controlled trial of oral glutathione supplementation on body stores of glutathione. European Journal of Nutrition. May 2014: 1436-6207. doi: 10.1007/s00394-014-0706-z
** Setria® is a registered trademark of Kyowa Hakko Bio Co., Ltd.
About Kyowa Hakko USA
Kyowa Hakko USA is the North & South American office for Kyowa Hakko Bio Co. Ltd., an international health ingredients manufacturer and world leader in the development, manufacturing and marketing of pharmaceuticals, nutraceuticals and food products. Kyowa is the maker of branded ingredients including Cognizin® Citicoline, Lumistor® L-Hydroxyproline, Pantesin® Pantethine, Setria® Glutathione, as well as Sustamine® L-Alanyl-L-Glutamine. For more information, visit http://www.kyowa-usa.com.
# # #
Return to News »