Kyowa Hakko Introduces Setria® Performance Blend
Kyowa is pleased to announce the launch of Setria® Performance Blend. Setria® Performance Blend is a new, branded, patent-pending blend of Kyowa's L-citrulline and Setria® glutathione. Studies have shown that this blend supports NO production, and sustains NO levels in the bloodstream twice as long as comparable doses of l-arginine or l-citrulline.
New research in resistance-trained males suggests that Setria® Performance Blend may help sustain NO levels which could lead to reduced fatigue and speed recovery.* Get the strength-training results you want with long lasting nitric oxide (NO) production.*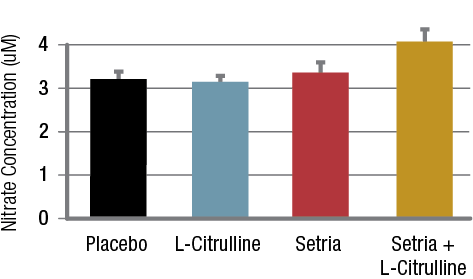 A combination of L-Citrulline (CIT) and Setria supplementation significantly increased NO levels in HUVECs.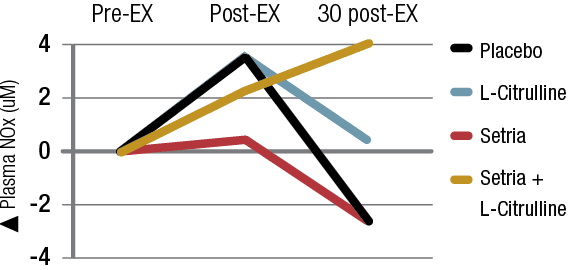 One week of daily oral supplementation with 200 mg of Setria and 2 grams of L-Citrulline enhanced NO levels at 30 min. post-exercise.
Setria® Performance Blend
Supports NO levels*
Sustains NO levels for a long-lasting effect*
Aids in vasodilation to fuel muscles*
For more information about Setria® Performance Blend, visit SetriaGlutathione.com/Sports-Nutrition
About Kyowa Hakko USA
Kyowa Hakko USA is the North & South American office for Kyowa Hakko Bio Co. Ltd., an international health ingredients manufacturer and world leader in the development, manufacturing and marketing of pharmaceuticals, nutraceuticals and food products. Kyowa is the maker of branded ingredients including Cognizin® Citicoline, Lumistor® L-Hydroxyproline, Pantesin® Pantethine, Setria® Glutathione, as well as Sustamine® L-Alanyl-L-Glutamine. For more information, visit Kyowa-USA.com.
References
McKinley S, Andrew T, Morita M, Willoughby D. Combined L-Citrulline and Glutathione Supplementation Increases the Concentration of Markers Indicative of Nitric Oxide Synthesis. Journal of the International Society of Sports Nutrition. 2015, 12:27 https://jissn.biomedcentral.com/articles/10.1186/s12970-015-0086-7
*Setria® is a registered trademark and owner of Patent Application US 20150011463 A1 from KYOWA HAKKO BIO CO., LTD.
Return to News »